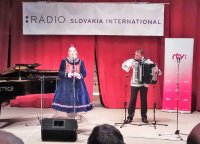 On the 12th of April 2018 in Bratislava, a solemn ceremony of celebration the 25th anniversary of the broadcasting of the International Radio of Slovakia was held.
The ceremony brought together guests and staff of editorial offices of different years.
The international radio of Slovakia is a part of the state radio and television company RTVS. At first, the translation in a foreign language was based on programs in the Slovak language, which compatriots living all over the world could adjust for the first time on the 4th of January 1993. The ceremony was attended by the President of Slovakia, the Minister of Foreign Affairs, the heads of the editorial offices and others.
Read more:
http://www.teraz.sk/slovensko/media-radio-slovakia-international-o/319196-clanok.html
https://www.dobrenoviny.sk/c/129488/radio-slovakia-international-oslavilo-25-rokov-vysielania