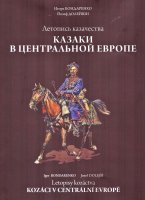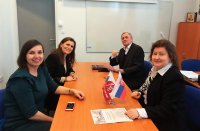 On the 23d of February 2018 in the Russian Center of the European Foundation of Slavic Literature and Culture in Bratislava, the presentation of the book "Chronicle of the Cossacks. Cossacks in central Europe" was held.
The book of Professor I.I. Bondarenko and Professor I. Doleyshi tells about the history of the Cossacks, full of glorious victories and selfless service to the Motherland. In the middle of the XVIII century the Cossacks showed nobility and courage, having rendered invaluable assistance to the monarchs of European countries in resolving numerous disputes and conflicts. The book, published by the European Foundation of Slavic Literature and Culture, is written on the basis of archival documents and eyewitness accounts.
In the book the authors describe both the glorious victories of the Cossacks in Central Europe and the tragic and poorly studied period of the Cossacks' stay in forced emigration caused by the vicissitudes of the October Revolution of 1917 and the subsequent brutal Civil War in Russia.
The publication was published in two languages, Russian and Czech. During the presentation, it was noted the high quality of the publication, filled with facts and illustrations. The value of the research is that it links the epochs and generations, tells about the day of today, the revival of the traditions of the Cossacks both in the present Czech Republic and Slovakia, and in the historical homeland of the Cossacks in Russia.
The guests of the Russian Center and representatives of the Slovak school from the city of Shintava took part in the discussion of the book.