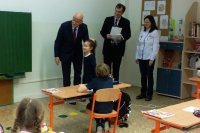 Since the 1st of September 2017, the Slovak-Russian elementary school started its activity in Bratislava.
This unique project presents the activity of the elementary school with the teaching of subjects and disciplines in the Slovak and Russian languages. The main aim of the school is to achieve the perfect Slovak-Russian bilingualism (even with the use of English), so that the graduates of the school after the 9th year could continue their studies at any secondary school in the Slovak Republic, in the Russian Federation or in any other schools in the world. The school is founded by private persons of Slovakia with the support of the Embassy of the Russian Federation in the Slovak Republic.
The founder of the school, Josef Bacha says: "Today our school has direct contact with the bilingual Slovak-Russian gymnasium in Bratislava, which is one of the high-quality secondary schools for the continuation of studies for our future graduates. Enjoy a pleasant and unique atmosphere with us! "
On the 1st of February 2018 Slovak-Russian school in Bratislava was visited by the Russian Ambassador in Slovakia A.L. Fedotov. He congratulated the children with the end of the first half of the academic year and wished them further success in their studies.
Read more: https://www.ruskaskola.sk/novinky/vzacna-navsteva-v-nasej-skole
Interview with the founder of the school Josef Bacha: https://www.aktuality.sk/clanok/487391/preco-zakladam-rusku-skolu-v-bratislave-rozhovor/